On June 11th, we discussed the NY DFS Cybersecurity Regulation at the Changing Landscape of Cybersecurity Regulation event, hosted by Currency. A set of experts went through the nature and implications surrounding New York's recent financial regulations along with its possible push to national regulation. 
Panel members included Anders Norremo, the CEO of ThirdPartyTrust, a leading vendor risk management platform; Matt Janoski, CISSP of Wipfli, a full service audit consulting firm; and Dara Chevlin Tarkowski, Partner at Akerman LLP & Outside General Counsel at the Bureaus, Inc.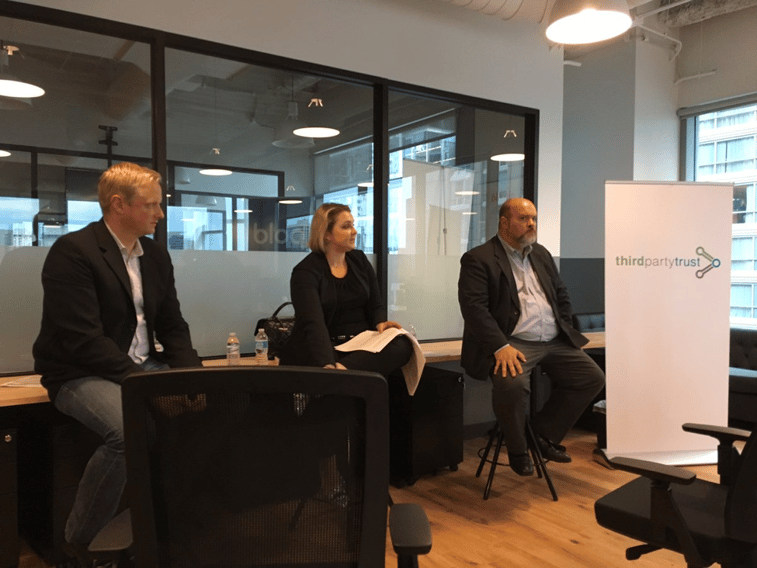 As explained by Tarkowksi, the act has an extensive list of requirements. Covered entities are required to report an incident of hacking—or merely an attempt at hacking—within 72 hours of notice.
Moreover, entities must establish a cybersecurity program, adopt a cybersecurity policy, hire or outsource a Chief Information Security Officer, and take specific measures to regulate third-party service providers that have access to entities' non-public information.
These measures include:
Identifying and assessing the risk of utilizing third parties with access to sensitive information
Minimum cybersecurity practices required to be met by third party organizations
Due diligences processes used to evaluate the cybersecurity practices of third-party vendors
Periodic assessments of the third-party's cybersecurity practices
The implications of the act are far reaching, affecting not just covered entities in New York, but also their third-party vendors across the globe. Norremo states:
"Each covered entity has countless vendors that handle non-public information. The result is hundreds of thousands of businesses that are being affected by this spider web effect." 

Anders Norremo, CEO ThirdPartyTrust
For Tarkowski, the scope of the law is broader than what she would like:
"I really wish they had given companies, especially smaller and middle market companies, more time."

 Dara Chevlin Tarkowski, Partner at Akerman LLP & Outside General Counsel at the Bureaus, Inc.
The panelists differ in their opinions on the likelihood for similar legislation to be passed by other states or on the federal level.
Matt Janoski, CISSP expects the legislation to "creep across the nation in terms of where the businesses are," thereby making Illinois a probable candidate.
Similarly, Norremo feels that New York will act as a catalyst in bringing about heightened cybersecurity regulation across the country. Tarkowski describes New York as the "guinea pig," stating that the adoption of other states depends on how Act 23 NYCRR 500 will play out. Policy makers and industry leaders are waiting to asses if strengthened cybersecurity will outweigh the burdens of the legislation.
ThirdPartyTrust and Currency are working with regulators and experts to best understand how technology can relieve some of the burden of extensive vendor risk assessments on small businesses. Managing vendor risk is the responsibility of each organization as they have vendors and customers dependent on them. 
---
To learn more about how ThirdPartyTrust can help you manage third-party risk, request your free trial now: