SIMPLIFIED THIRD-PARTY RISK MANAGEMENT
---
Accelerate Vendor Risk Assessments with a Single Security View
---
Vendor risk assessments are necessary for companies to outsource safely, but they often involve manual, inefficient processes that are spread across too many teams and tools.
---
As a consequence, Security teams struggle with insufficient resources to assess and monitor third party risk, and a lack of visibility and understanding of risk across the vendor ecosystem.
Your enterprise needs business partners
---
The use of third party vendors increases risk, and supply chain attacks are on the rise. A third party data breach can cost millions of dollars, erode customer trust, and diminish brand reputation.
---
If you're not actively monitoring third parties, your company doesn't know how much risk it is exposed to. You need full insight into the security posture of your vendor ecosystem.
Scale your third-party risk management program
---
Are you still relying on emails and spreadsheets for conducting vendor risk assessments?
---
Point-in-time assessments and manual reviews are costly, error-prone, and not scalable.
---
❌ Don't spend hours tinkering with spreadsheets to collect, update, and analyze vendor risk data
❌ Get rid of emails and phone calls to track down vendors
❌ Avoid the lack of visibility and regain control over risk vectors
---
Your company can eliminate redundancies and time-consuming tasks with a fit-for-purpose TPRM tool that accelerates security reviews and information sharing.
End-to-end workflow management
---
Centralize and streamline your process by automatically monitoring your vendors' security performance.
Automated vendor risk assessments
---
Set it and forget it! Minimize the amount of administrative time spent managing third-party relationships.
Security document storage
---
Control your audit trail for easy compliance with internal and external audits.
Learn how to build a scalable TPRM Program
---
Accelerate Vendor Onboarding
---
Reduce friction by making the vendor onboarding a streamlined process that's shared between Security, Legal, Procurement, and business owners.
---
With access to 14,000+ vendors that were already assessed on the ThirdPartyTrust network, you can expedite risk assessments and get the information you need quicker.
Get unparalleled visibility over your supply chain
---
Visibility into risk increases the overall efficiency of a TPRM program. Through data integrations and powerful analytics, you can continuously monitor your vendor ecosystem in a single dashboard.
---
Get a holistic view of your organization's third-party risk by consolidating everything in one place to see:
---
Industry questionnaires such as SIG Core & Lite, NIST, CAIQ; custom questionnaires and certifications like SOC-2 Type II, ISO 27001; insurance certificates, and more.
Cyber risk scoring from 10+ integrated data providers and breach notifications.
Risk prioritization, inherent risk analysis, and reassessment alerts.
---
Focusing your resources, you can make riskiest vendors your priority to reduce enterprise risk.
---
Save time and money
---
Assess more vendors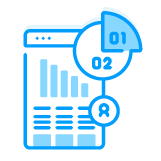 ---
Identify and minimize risk
ThirdPartyTrust Integrates with Your Business Apps
---
SEE THIRDPARTYTRUST IN ACTION
---
More Vendor Risk Management Resources