Optimize your third-party security assessment process
---
ThirdPartyTrust helps you sustain a secure supply chain while complying with industry standards.
ThirdPartyTrust was built on one premise
---
That third-party risk must be managed in an efficient and scalable way given the right toolset, regardless of industry.
---
Learning from efficient programs and listening to struggling ones, we built ThirdPartyTrust, a workflow management, document repository and communication platform specifically targeting (and often automating) the most time consuming aspects of the third-party security review and management process.
---
Workflow Management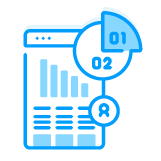 ---
Document Repository
---
Communication Platform
The end result, a purpose built tool that allows both enterprises and third party vendors to connect in order to streamline risk assessment and monitoring. Enterprises can scale the management of their vendor portfolios, and vendors can showcase their security posture —Without breaking the bank.
These are the problems we solve
Communication
Our tools facilitate interaction and collaboration between enterprises and their third party vendors to easily communicate around requirements, findings, and remediation.
Ownership
Our approach empowers vendors to be proactive in creating and maintaining a security repository, whereas enterprises gain increased visibility into the health of their third party ecosystem.
Information Sharing
Our technology was built with automation and self-management in mind, encouraging users to share security profiles that have already been reviewed.
Can you relate to these? Then we can be a good fit for your industry.
---